Whether it's a house for sale or let, estate agent boards are not only a great way of advertising the property to passers-by. They provide an opportunity to promote your agency at the same time. So, of course, it's tempting to try and maximise your exposure and give your agency as much of a push as possible.
Most agents will be well aware, however, that you can't leave your boards out for too long, place too many, or even make them too large. If you do, you could fall foul of the 2007 Town and Country Planning (Control of Advertisements) Regulations Act. The regulations that apply for estate agent boards UK wide do vary, so these regs only concern England.
Depending on which part of the country (or borough) you are based, you could incur a hefty fine, or worse. Unfortunately, as each local authority has the autonomy to decide on how strictly these regulations will be enforced, we can't tell you exactly what the penalty for each will be.
Estate agent boards law, like all legal stuff, can be a touch confusing, to say the least. What we've tried to do here is to simplify and break down exactly what is and isn't allowed, so you can be sure you don't incur any extra costs. So if you're in any doubt, read on to learn all about the estate agents boards rules and estate agent boards regulations.
Rules And Regulations For The Display Of Estate Agent Boards
There are a pretty well-defined set of rules you can follow which mean that you don't need to apply for planning permission to erect boards and can avoid any fines or penalties. If for whatever reason, you feel you really need to place a board which does not fit within these guidelines, you will actually need to contact your local council and apply for planning permission.
Which is a lot of work just to erect a sign. So we recommend you stick within these guidelines, to save yourself not only a fine but a lot of hassle too. It is worth stating that these rules apply for traditional estate agent T boards, as well as estate agent V boards.
Where Can I Place Estate Agent Boards / Signs?
Boards may be displayed only on, or within the curtilage of, the property to which they relate. This means you cannot place boards on the street outside the property, next door (even if you also manage this property), or across the street, even if the house is not clearly visible from the street.
How Many Boards Can I Place?
How many let boards are allowed in a property, or for sale signs, is luckily pretty clear cut. You can only place one board per property. The first to be displayed is the permitted one. However, if a property comprises of multiple flats, then a council may allow more than one board. The relevant flat number would need to be displayed on each board.
Projection And Estate Agent Boards Size
What size an estate agents board is made is crucial if you want to avoid fines. For residential properties, the maximum size allowed is 0.5 sq. m. In the case of two joined boards, 0.6 square metres in total is allowed. For commercial premises, which are obviously going to require a larger sign, signs can be up to 2 sq. m, or in the case of two joined boards, 2.3 square metres in total.
The maximum projection from the building is 1 metre, and this applies to both residential and commercial properties. The maximum height of the highest part of the board is normally 4.6 metres above the ground, but if your property is in a conservation area, this is reduced to 3.6 metres. For a full explanation, Lambeth Council has this breakdown.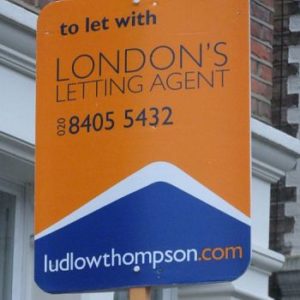 How Long Can I Leave Boards In Place?
Of course, while your property is still on the market the boards can remain in place. Where it gets tricky is the period after the property is sold or let. Boards informing that the property is sold or let must be removed within 14 days of completion, or the signing of a tenancy agreement. Which is not much time if you're juggling multiple properties.

This timescale is well worth knowing as the council can remove your signs if they infringe the rules. It's also worth noting that you're not allowed to put up a board indicating that you manage the property – it has to be a to-let or for sale sign, anything else needs planning consent.
Types Of Estate Agent Sign Boards Allowed
If you're tempted to put up an illuminated sign to advertise a property, unfortunately, you will need to think of another way of making your board stand out. Illuminated signs are not allowed under the regulations, and you could find yourself with a Penalty Charge Notice and a rather hefty fine. Don't despair though: with great design and clever placement, there are many ways of making your sign stand out.
Rules Concerning Estate Agent Board Design
The only rule concerning design is that no character or symbol on the advertisement may be more than 0.75 metres in height. There are not currently any other regulations concerning estate agent boards printing or design. This is one area where you can afford to be as creative and bold as you wish. If design is not your strong point, our in house design team are on hand if you need us.

Our team are also fully drilled on the regulations and rules which apply, as we've been providing estate agent boards London and UK wide for over 30 years. So if you have any questions, or just want to see the full range of signage options we can provide, visit Henderson Signs today and we'll be happy to help.